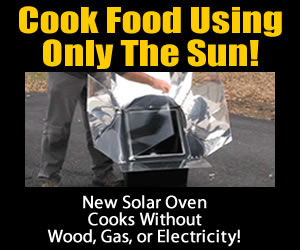 Solutions Science Solar Oven
$349.95




P.O.M.S. SOLAR PLUG N PLAY DOES NOT REFLECT SALE INCENTIVES, BONUS, OR SALES IN GENERAL. P.O.M.S. IS INFORMED OF SALE EVENTS AND THEN AT THAT TIME EMAIL THESE SALES EVENTS TO OUR SUBSCRIBERS TO TAKE ADVANTAGE OF THAT SALE. THIS IS WHY IT'S IMPORTANT TO SIGNUP FOR OUR NEWSLETTER TO KEEP YOU INFORMED OF THE BEST PLUG AND PLAY SOLAR DEALS AVAILABLE. SO SIGNUP FOR OUR NEWSLETTER BELOW FOR OUR BEST DEALS FOR WHICH WE WILL HAVE AND YOU CAN COUNT ON THAT!
Plug N Play Solar Sphere Kits and Generators
When you hear politicians say, "NEVER WASTE A GOOD CRISIS." You must ask your self, "What influences a politician to take advantage of a crisis that effects you, and me." These are just a few little clues as to what direction we are going .
"When electricity reaches the point where you can no longer afford it" Then what are you going to do ? Plug N Play Solar Generators is the solution ! It would be a very SMART move if you decide what your destiny is ,instead of the politicians dictating what the future holds for you ,and your loved ones.
Prepare and be ready with survivalist supplies like solar cell panels,
Plug n Play Solar Generators
, or even ;solar cell survivalist kits. We have a good selection of Plug n play solar Generators and solar cell wafer kits available .Build your own Survival Solar Panels with Solar Sphere Solar Kits.
SOLAR SPHERE solar kit
contents are a do it your self solar cell manual, solar wafers , reverse diodes , flux pens , solder , tab and strings . . It's easy to build plug n play solar generators ! Once you learn how to string n tab solar cell panels
(S) Peace of Mine Survival (S) (S,S)








Visit my FREE SOLAR EDUCATION PAGES <CLICK HERE>






SOLAR SPHERE PLUG N PLAY SOLAR GENERATORS & GADGETS





Briefcase PLUG N PLAY SOLAR GENERATORS $599.00
SOLAR CELL PHONE CHARGER $56.99

SOLAR CELL AA BATTERY CHARGER $22.95

PORTABLE POWER BANK $59.99

"Solar Cell Lighting"(S
PRICE RANGE: $23.99---- $39.95


Visit my FREE SOLAR EDUCATION PAGES <CLICK HERE>

PLUG N PLAY SOLAR GENERATORS
GOAL ZERO YETI 1250 W/ROLL CART $1399.95
THE READY STORE offers Emergency Preparedness,
with Solar Power, Solar Cell Panels, Survivalist Solar Cell Kits, Survivalist Solar Cell Equipment and Much More...
Peace of Mine Survival (E,W)


PLUG N PLAY GOAL ZERO SHERPA 50 SOLAR GENERATOR $359.98

THE READY STORE SHERPA 50 PLUG N PLAY SOLAR GENERATORS



,S)